Recent happenings around the world, instigated by the murder of George Floyd, an African-American male by a white police officer in Minneapolis in the United States of America, has brought back to the fore conversations about racism, xenophobia and ethnocentrism.
These vices are the outcome of political, economic and cultural constructs that trace back to colonialism, imperialism and slavery, against the backdrop of white supremacy and unbridled capitalism.
The impact of these vices are tangible in the abhorrent inequalities that exist between black and white communities in America, the economic inequalities between Africa and other continents, inferiority and division within the global black community generally, the false sense of nationalism that has fueled conflicts in Africa and other forms of segregation that stall regional integration and globalization.
On Tuesday, 30th June 2020, a Special Webinar on the theme: 'Ethnocentrism, Xenophobia and Racism: Same Difference?', was organized by the ACLE. The session, held via Zoom, was moderated by Nana Yaa Mensah, Supervising Editor, Asaase Radio (99.5 MHz) & Co-host, Asaase Breakfast Show. The panelists were Professor Emerita Takyiwaa Manuh, Emerita Professor of African Studies, University of Ghana and Former Director, Social Development Policy Division, United Nations Economic Commission for Africa; Professor 'Dejo Olowu, Professor of Law, Walter Sisulu University, South Africa; and Professor Anthony E. Cook, Professor of Law, Georgetown Law School, United States of America. The panel recommended that the entire world needs a well thought out plan and a conscious effort to deal with Ethnocentrism, Xenophobia and Racism.
GIMPA Law & Ethics Policy Paper Volume 1, Special Issue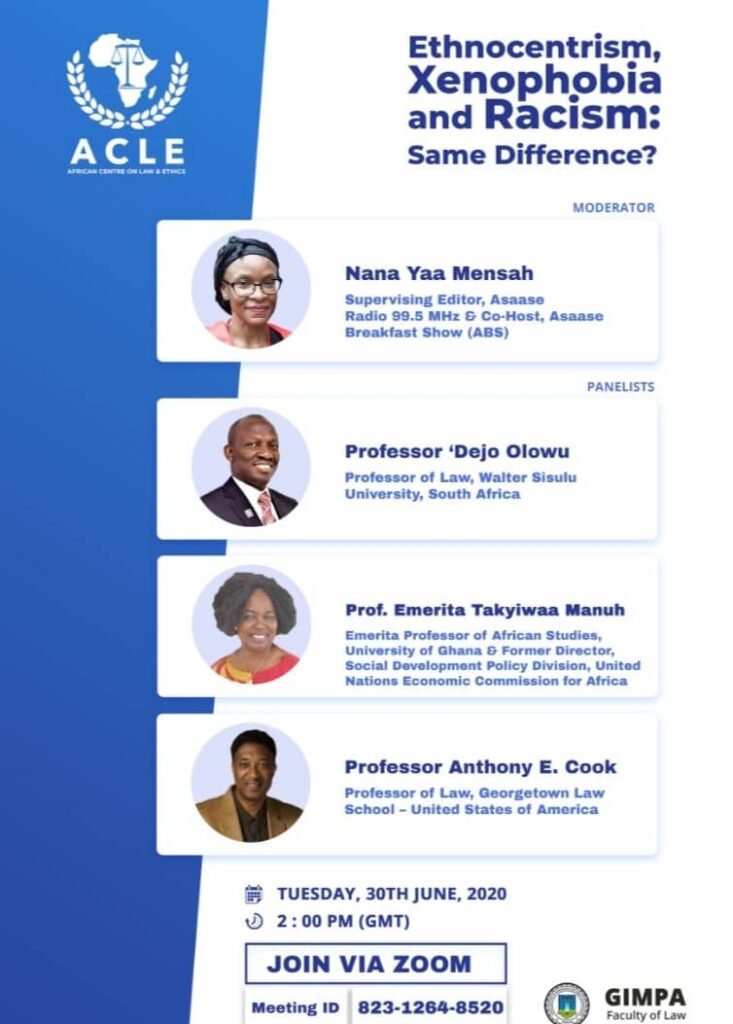 Notwithstanding the complicated and multilayered nature of the problems, there is the need to facilitate conversations in consolidating and unifying our efforts to combat these issues on a political, economic and cultural levels, in ways that transcend physical boundaries.
Click on the link below to read the full policy document